About ZM Theme
ZM Theme is a simple and light-weight theme for WordPress. ZM Theme provides a green style, bright view and fast rendering experience to the users. ZM Theme passes W3C XHTML 1.0 and W3C CSS level 3 validation. This theme works well on WordPress 2.9.x.
ZM Theme is originally designed for this blog based on Green Park 2. After changing a lot of the design and the style and making it pass XHTML 1.0 and CSS level 3 validation, I decided to publish it. This blog is an example of using this theme.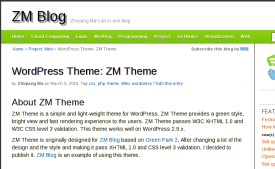 How to install
Download the theme from the link below and unpack it. Change the content of search_form.txt to your own Google Custom Search code. Then upload it to the /wp-content/themes/ directory and select it in WordPress console will make this theme work.
Build in support for plugins
It is recommended to install these plugins while using this theme and the page template:
Random Post List
WordPress Popular Posts
Sitemap Generator for WordPress
Please install these plugins when you using this theme. These plugins will make this theme function well as the blog it is originally designed to.
Download and Licence
Free to download, free to use, free to customize.
Released under the GPL License (What is the GPL?)
Download here: zm-theme-1.2
Change Logs
Version 1.1.0 (May 29, 2010) Clean up css files. Lots optimization. Maybe the last version of this theme.
Version 1.0.3 (8 Apr. 2010) Delete some *.txt files. Update theme link. Clean up theme code.
Version 1.0.2 (17 Mar. 2010) 960px for width. Line width changes to 1px.
Version 1.0.0 (9 Mar. 2010) Version 1.0.0 is released.
Version 0.1.6 (7 Mar. 2010) Bug fix: Fix "Bad homepage url in Settings page."
Version 0.1.5 (7 Mar. 2010) Bug fix: Fix "index.php auto redirect to homepage."
Version 0.1.4 (7 Mar. 2010) Change the search form position by 1px. Page navigation and menu link hover effect changes.
Version 0.1.3 (6 Mar. 2010) Add XHTML and CSS 3 validation link.
Version 0.1.2 (6 Mar. 2010) Plugins requirement is removed. This theme can work without these plugins.