About RGBlite Theme
RGBlite Theme is a simple and light-weight theme for WordPress. RGBlite Theme provides a green-red-blue mixed style, bright view and fast rendering experience to the users.
RGBlite Theme passes W3C XHTML 1.0 and W3C CSS level 3 validation. This theme works well on WordPress 2.9.x and WordPress 3.0.
RGBlite theme is among the top 10 most fastest WordPress themes in one measurement. Here is the overall rank image from the result: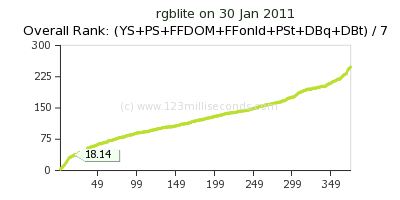 How to install
Download the theme from the link below. Then upload it to the /wp-content/themes/ directory and select it in WordPress console will make this theme work.
Build in support for plugins
It is recommended to install these plugins while using this theme and the page template:
WordPress Popular Posts
Sitemap Generator for WordPress
Please install these plugins when you using this theme. These plugins will make this theme function well as the blog it is originally designed to.
Preview, download and Licence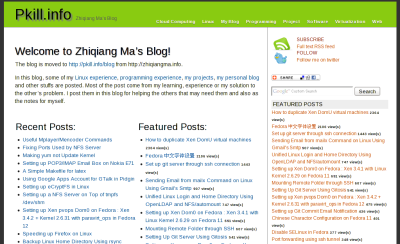 Free to download, free to use, free to customize.
Released under the GPL License (What is the GPL?)
Preview is available: on WordPress.org.
Download: RGBlite WP Theme.(Version 1.3, Feb. 3, 2012)
How to get the homepage like the demo screenshot
If you like the homepage style in the demo screenshot which is different from the default recent posts list, you can easily follow these steps:
1. Create a page for the homepage. The content of this page will disappear on the top side. Select "Homepage" for the template on the right side of the page editing page.
2. In "Settings->Reading" in WordPress's control panel, select "A static page" in the "Front page displays" section. Select the page you have created in step 1 for the "front page".
3. The "Featured posts" part in the homepage requires "WordPress Popular Posts" plugin. After install this plugin, the "Featured posts" will appear.
The top part of the right sidebar is actually a "Text widget" which can be designed by yourself.
Translation
Thanks to the people that translate this theme to other languages:
Romanian, Alexander Ovsov (Web Geek Sciense).
Change Logs
Feb. 3, 2012. Update to version 1.3.
Feb. 1, 2011. Add page load speed measurement result.
Version 1.1.3. Fix lots bugs; delete archive.php, missing.php; use add_theme_support('automatic-feed-links'); smaller footer font;
Jul. 22, 2010 Add "How to get the homepage like the demo screenshot" part.
Version 1.1.2. Prettied default sidebar; Search form always stays on top of the sidebar; Search functions run now.
Version 1.1.1 Add nav menu support; Add body_class(); add wp_link_page(); Add default sidebar; Add search form in default sidebar;
Version 1.1.0   Change post meta in post to two lines and add the right part of first line; Add text before content; Move post meta from file to function; No border between content and sidebar; Homepage has page number; no border-bottom for header; post font 12px; h2 28px; h3 22px; h4 16px; Change title format. Head logo and the menu is on two lines; Change tag cloud line-height to 2em;
May 31, 2010. Change index.php.
May 29, 2010. The first version 1.0.0 released.