Junk Emails, or Email spams, are annoying and they cost time to deal with. While they are something we need to cope with, we can use tools to help us. Thunderbird has an adaptive junk filter that can learn from user's actions to identify junk messages. I find that Thunderbird default settings are not fully configured as I expected to make fully use of its features. One important missing one is that Junk emails are not automatically moved to the Junk folder. This can be understood as most new users to Thunderbird may not understand well how it works and the filter is not well trained yet so that it is safe to use some basic configurations without moving emails around. In this post, I will introduce the configurations I made to make Thunderbird move junk emails to the Junk folder automatically.
When Thunderbird receives new emails: automatically move junk emails to the junk folder
If Thunderbird marks an email as Junk, just move it to the Junk folder.
In the "Account Settings" dialog, choose the "Junk Settings" under your email account. In the "Destination and Retention" part on the right, turn on "Move new junk messages to" and choose the "Junk" folder location.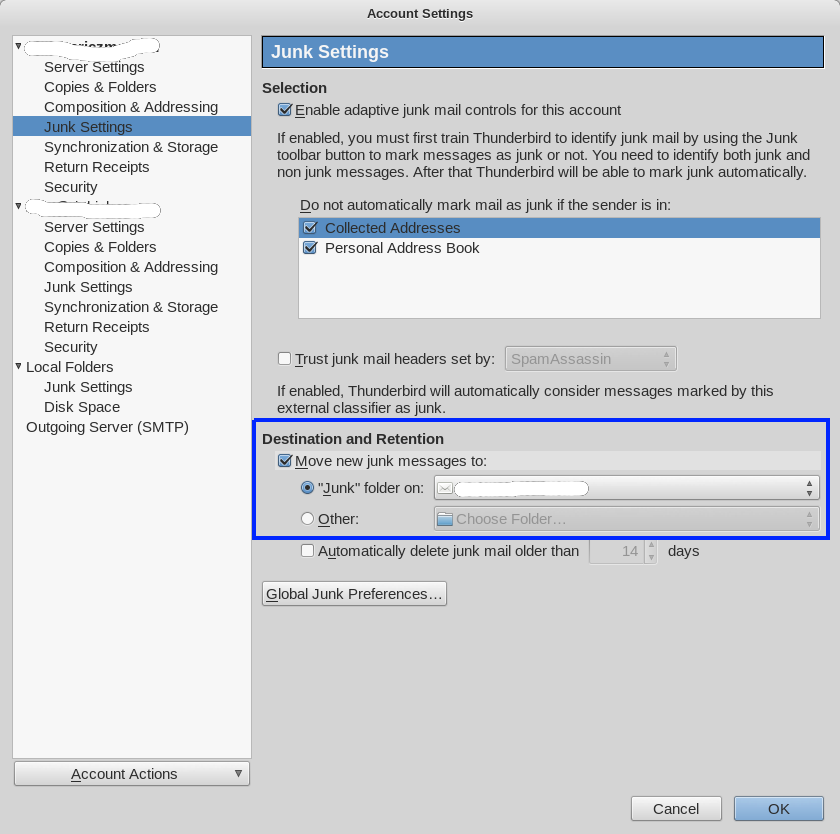 Then, when Thunderbird gets new Emails, the Junk emails marked will be automatically moved to the Junk folder you chose.
When I mark an email as Junk: automatically move junk emails to the junk folder
Thunderbird needs some initial training from users actions of marking emails as Junk. User can mark a Junk email by clicking the "Junk" button or use "j" to mark. When it is marked as Junk, better let Thunderbird move the Junk emails marked to the Junk folder too.
In the "Thunderbird Preference", choose the "Security" part and then the "Junk" tab. In that dialog, you can turn on "When I mark messages as junk" and choose "Move them to the account's "Junk" folder".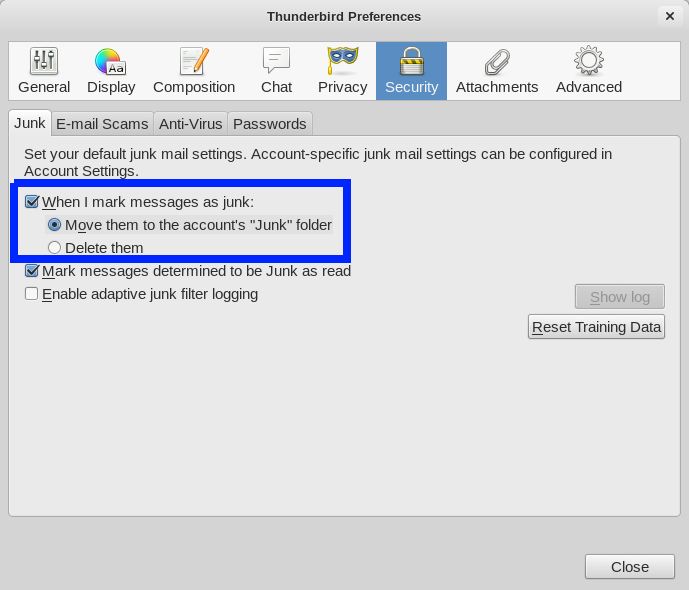 With these 2 tuning and some manual junk marking for its learning, Thunderbird now does a pretty good job for me moving the Junk emails from my Inbox so that I do not need to spend time viewing/moving/deleting/archiving them. But please be aware that you may still need to take a look at your Junk folders to find out some false positives. The "J" shortcut is very useful to unmark an email as Junk (and Thunderbird is trained to).