I am tired of the non-efficient "Print Screen" -> Paste in Paint -> Save way. How to efficiently take screenshot on Windows 7?
On Windows 7 and later ones, the "Snipping Tool" is handy.
Press the "Win" key and input "snipping tool". The tool will appear in the menu.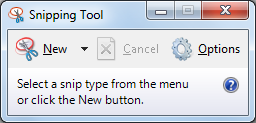 You can select the whole window, the whole scree or select a rectangle. And you can view the screenshot and save it.