Having a reading list from RSS feeds is a convenient way to organize and aggregate various information source from the Web. After Google Reader was retired, many different readers services are available. Feedly and Follow.it are two good choices among those RSS feed readers. Different readers have different features. Follow.it provides features like keyword filtering within each RSS feed and aggregated newsletters. It is nice to try different RSS readers. In this post, we will check how to move the RSS reading list from Feedly to Follow.it.
Export RSS feed list from Feedly
Feedly provides a tool to export the RSS feed list.
First, click the small gear icon besides of the "FEEDS" on the sidebar, and then click the "Export OPML" icon as follows.

Then, in the "OPML Export" page (shortcut link: https://feedly.com/i/opml), click the button to download the OPML file.

Import RSS feed list in follow.it
Follow.it provides an OPML importing tool for us to import the list of RSS feeds.
First, click the "Find feeds to follow" link.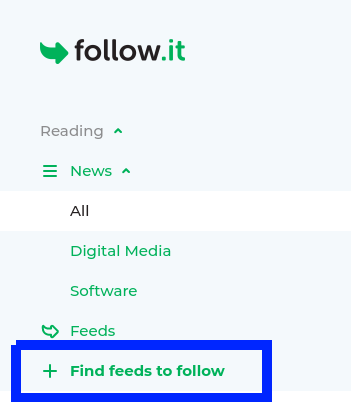 Then, select the "Mass follow" tab (shortcut link: https://follow.it/mass-follow).

In this page, we can find the option to upload and import OPML file.

Upload the OPML file we downloaded from Feedly and wait for some time for it to import the list. It may take a while if the RSS feed list is large. After the feeds are imported, it will pop out a dialog to confirm, and the reading list is well imported to Follow.it.